A Driver Was Arrested For Carrying Passengers On Top Of His Vehicle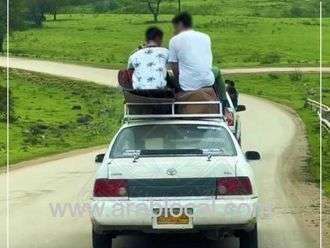 Omani Police announced that the Royal Oman Police (ROP) arrested a driver for reportedly carrying passengers on top of his vehicle.
Dhofar Governorate was the scene of the incident. The ROP said in a statement posted on its social media platforms: "A vehicle driver has been arrested after a video clip appeared on social media showing him violating traffic rules".
Two passengers were seen on top of the driver's car in the video. The violator is being prosecuted.