Oman's Record-Breaking Dual Zipline Over Water - An Exhilarating Adventure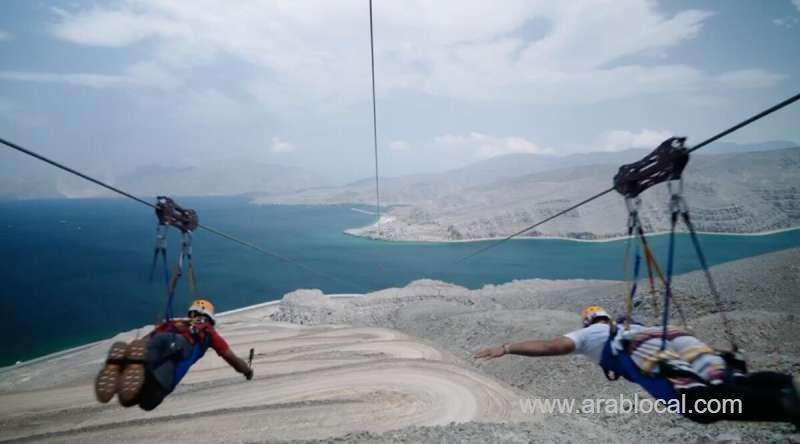 Introduction
Oman, a land of natural beauty and cultural treasures, is now home to a thrilling attraction that has captured the world's attention. The dual zipline over water in Oman has earned a prestigious spot in the Guinness World Records for its sheer length and breathtaking experience. This article delves into the exhilarating world of Oman's dual zipline, providing essential information on its location, contact details, timings, and more. Get ready to experience the ultimate adrenaline rush as you glide over pristine waters on this one-of-a-kind adventure.
The Marvel of Oman's Dual Zipline Over Water
Located in the scenic coastal region of Al Hajar Mountains, Oman's dual zipline over water stretches a staggering 2.83 kilometers (1.76 miles) across the sparkling waters of the Arabian Sea. This record-breaking zipline not only offers an unparalleled adrenaline rush but also treats its riders to a stunning view of the rugged Omani coastline and the azure sea below. The dual zipline comprises two parallel lines, allowing friends and family members to race each other and share the experience simultaneously.
Location and Contact Details
The dual zipline over water is situated in the Al Hajar Mountains, approximately 120 kilometers (74.56 miles) southeast of Muscat, Oman's capital city. The closest landmark is the picturesque fishing village of Qantab, about 25 kilometers (15.53 miles) from the zipline's starting point.
Address:
Oman Dual Zipline Over Water Adventure
Qantab Road, Al Hajar Mountains
Muscat Governorate, Oman
Contact Information:
Email: [email protected]
Website: www.omandualzipline.com
Timings
The Oman dual zipline operates daily from 9:00 AM to 6:00 PM, with the last ride departing at 5:30 PM. It is advisable to book your tickets in advance to avoid disappointment, as the attraction draws a large number of visitors from around the world.
Safety and Restrictions
The dual zipline over water adheres to international safety standards and is operated by a team of certified professionals. Participants must be at least 120 cm (3 ft 11 in) tall and weigh between 30 kg (66 lbs) and 140 kg (308 lbs). Children below 18 years of age must be accompanied by a legal guardian.
In Conclusion
Oman's dual zipline over water offers thrill-seekers an unmatched experience of soaring high above the Arabian Sea while taking in the breathtaking beauty of the Omani coastline. With its record-breaking length and unrivaled views, this zipline adventure is a must-visit attraction for those seeking adrenaline-pumping excitement.