Students Recognized In The Second Edition Of The Awtad 3D Printing Educational Program By Oxy Oman Receive Awards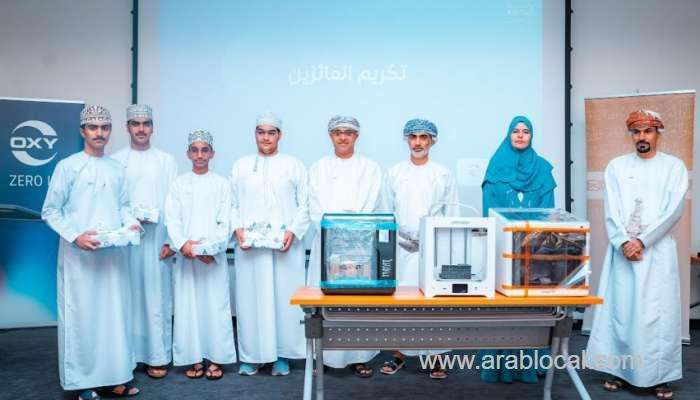 Representatives from Oxy Oman recently participated in the awards ceremony for the company's exclusive sponsorship of the Awtad 3D Printing Educational Program and competition. Now in its second edition, Awtad trains students, teachers, and job seekers in 3D printing technology to enhance their skills in the field. The program operates under the supervision of the Ministry of Education and is organized and conducted by InnoTech, an Omani SME specializing in 3D printing technology.
The awards ceremony took place at the Ministry of Education under the patronage of H.E Majid Al Bahri, the Undersecretary of the Ministry of Education for Administrative and Financial Affairs. Nasser Al Maskari, Corporate Social Responsibility Manager at Oxy Oman, attended the event along with senior company representatives.
Throughout the year, Awtad conducted a series of practical workshops involving over 100 students, 39 teachers, and 30 job seekers from various regions of the country. These workshops focused on designing and creating 3D printed products and objects. The program aims to equip students and job seekers with practical knowledge, enabling them to utilize 3D printing technology to address real-life challenges, fostering creativity and entrepreneurship through the creation of 3D printed products.
"Now in its second year, the Awtad program aligns with Oxy Oman's Social Responsibility objectives, supporting cutting-edge technological innovation and education, particularly among the youth in Oman. We take pride in acknowledging the achievements of the winning student projects and remain committed to advancing creativity and educational excellence throughout the Sultanate," stated Steven Lauver, President and General Manager at Oxy Oman.
This sponsorship reflects Oxy Oman's ongoing commitment to supporting programs that promote innovation, creativity, economic growth, and sustainable development, with the goal of making positive impacts in neighboring communities.