Muttrah In Oman Isolated To Stop Spread Of COVID-19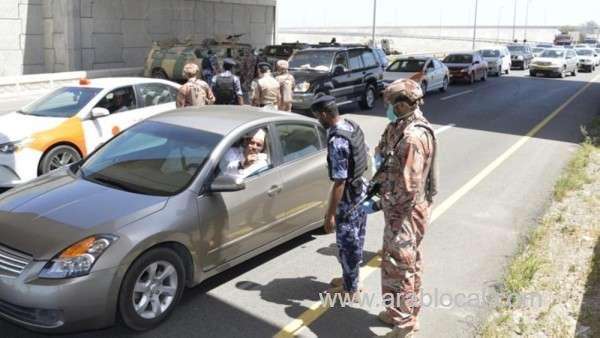 Muttrah was isolated on Wednesday, as security forces took over major roads leading to the wilayat to stop the spread of COVID-19.
Check-posts manned by the Royal Oman Police and Sultan's Armed Forces were set up to ensure people's health and safety, and will be in place until further notice.
Yesterday, the Royal Oman Police said they were implementing the "Complete isolation for Wilayat of Muttrah from today until further notice, as part of the efforts made by the ROP in coordination with the authorities concerned to reduce the spread of COVID-19. Traffic has been closed on the roads leading to Muttrah (Ruwi, Hamriyah, Al Wadi Al Kabir and parts of Wilayat Darsait).
"The entry of trucks, supplies, basic and medical services such as fuel, sanitation and others will be facilitated," added the police.
In a statement, the Ministry of Defence said: "The Sultan's Armed Forces and the Royal Oman Police have activated joint check-posts to monitor the movement of citizens and residents on roads.
"These procedures aim to reduce the movement between governorates to keep safe all citizens and residents, and safeguard their health. The military and security services call on all to adhere to and commit to the ongoing procedures so that they remain safe, and contribute towards the limiting of the spread of COVID-19, in the public interest," added MoD.
Road users should ensure they carry the required documents such as their civil ID card, work card, and the reasons explaining why they need to pass these joint check-points. Exceptions to this decision is allowed in the following cases:
1.) Employees in the private sector whose nature of work requires them to be present at the place of work, as has been determined by the head of their unit
2.) Ambulances and emergency vehicles
3.) Military and security vehicles
4.) Food and delivery vehicles
5.) Those residents and citizens who have gone to buy their basic necessities
6.) Vehicles carrying construction and commercial materials
7.) Vehicles carrying oils and their derivatives and materials and tools that serve these sectors
8.) Exceptional cases requiring the movement of residents and citizens, as decided at the security points between the governorates.
To help those who show symptoms of COVID-19, Al Nahda hospital yesterday announced the suspension of all outpatient and surgical appointments. "An exception is for some cases, who will be contacted with at the discretion of the attending physician, as well as emergency cases," said the Ministry of Health.
SOURCE: TIMESOFOMAN