Calls To Relocate Wadi Kabir Industrial Area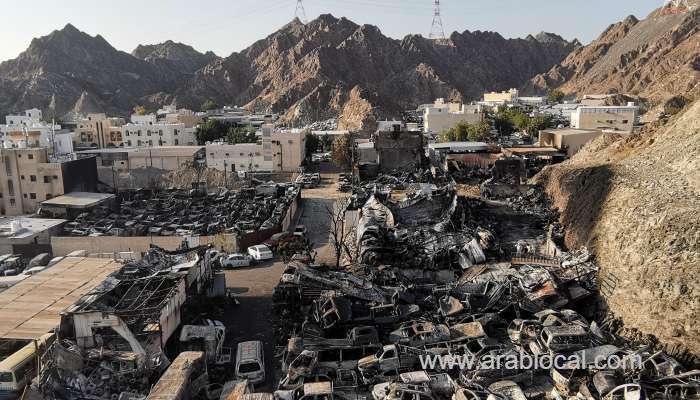 Plans to make Wadi Kabir Industrial Area safer for businesses and the surrounding residents are being drawn up.
To make sure fires like the massive blaze which spread through large parts of the area do not take place again, members of the Majlis Al Shura and Municipal Council of Muscat came up with ideas to improve safety standards in establishments operating in the area.
Meanwhile, the Oman Chamber of Commerce and Industry (OCCI) has also decided to undertake a study to devise ways to prevent such fires in the future, and make sure they can be contained before they cause more damage by spreading to nearby residential areas.
"Oman is not the country it was 20 years ago," said Hamoud Al Yahya'ai, the Chairman of the Services and Social Development Committee of the Majlis Al Shura, who is in favour of relocating the facilities there to a safer location, away from highly populated areas. "In light of the increase in population, urban expansion, and the growth in commercial and industrial activities, permanent plans must be drawn up for cities and regions, not temporary ones.
"This is particularly true when considering urban planning in residential neighbourhoods," he added. "We must make sure factories, industrial facilities, and tall buildings are kept away from these areas, so as to preserve the privacy and environment of those living in residential homes. Plans must also be accordingly made to properly distribute public services such as streets, water supply, sewerage, and electricity."
Al Yahya'ai's committee will discuss this on February 24, with its recommendations on safer industrial areas then put to the Shura Council, which will discuss these suggestions with all the members at a later date. This will help provide permanent, sustainable solutions that benefit both the country's economy and its people.
"We will work hard to find a suitable plan, in response to citizens' concerns over such issues," he said.
Meanwhile, Salim Al Ghamari, a Municipal Council Member for the Wilayat of Muttrah, of which Wadi Kabir is a part, said industrial areas need to be properly planned, in terms of how operations set up within impact the people and environment in the surrounding areas.
With Wadi Kabir Industrial Area home to a number of workshops such as automobile repair shops, carpenters, steel fabrication units and plastic factories that deal with a number of hazardous, toxic and flammable materials, such enterprises must only be allowed to open under the strictest supervision, ensuring all safety measures to prevent accidents are taken. "Each party is responsible for the recent fire…no one can evade their responsibilities here," he said.
"Serious and diligent work is required from all parties involved to come up with a proper plan that can be implemented on-ground. Some storage areas and workshops, such as those that use oils, incendiary materials and hazardous items must be moved."
"The competent authorities, such as the Environment Authority, Muscat Municipality, the Ministry of Commerce, Industry and Investment Promotion, the Public Authority for Civil Defence and Ambulance, and the Capital Markets Authority must all work together to monitor industrial zones, which each body responsible for carrying out its area of specialisation," he added.
Al Ghamari went on to say that the workshops within had been arranged in a haphazard manner, with little consideration given to the safe use, storage and transportation of flammable goods. Scrap metal and other items allocated for repurposing are also stored improperly, he added, and this needs to change.
He added: "I don't, however, encourage moving the entire industrial zone to another area, because every place needs a small industrial area to meet the needs of its residents, when it comes to day-to-day matters such as changing car tyres, repairing vehicles, ordering goods from a carpenter, maintenance and repair of tools, but all of these need to be tightly organised by the relevant authorities, who need to supervise such areas in a proper manner, making sure the workers within comply with health, technical, legal, and safety requirements."
"All of the parties involved in operating and running these facilities must be part of a thorough study to properly organise industrial planning," Al Ghamari said.
"What happened in Wadi Kabir last Thursday was because of poor planning, organisation, and negligence over safety requirements and standards.
"Now that this has happened, all establishments in industrial zones in Muscat and the other governorates must be insured against disasters and fires, and workers must receive compulsory insurance from the Capital Market Authority," he said.
"For the last nine years, we have also asked for the transfer of metal workshops in Muttrah Souq and other residential areas, to Wadi Kabir Industrial Area, so that fires and other accidents that begin there, do not affect the people who live in these places," Al Ghamari further said.
SOURCE: TIMESOFOMAN